Castleknock Interior Design : Thank you to Liz Dwyer and @Irishtimesnews for featuring one of our recent private home projects in today's Irish Times Home and Design supplement.
"Nautical 1990s 'Love Boat' home gets a cool new look"
"An in-house bar, snooker room and ballroom made this D15 home feel like a party cruise ship. Interior designer Arlene McIntyre came to the rescue, giving it a family-friendly makeover."
Enjoy the front page article by clicking on the link here.
If you would like to watch the before and afters of this Castleknock Interior Design project, and see the transformation come to life, click here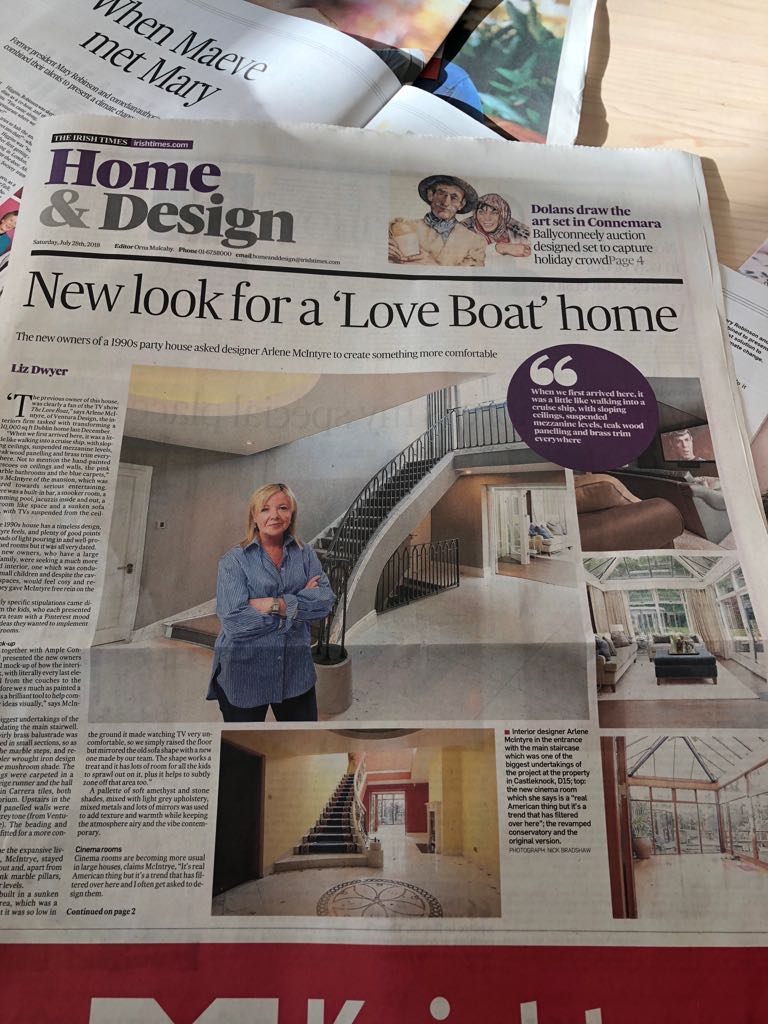 About Ventura Design
Ventura Design are one of Ireland and the UK's leading interior design firm and bespoke furniture manufacturer. Arlene McIntyre founded Ventura in 2005 after many years working in the design industry. The very name Ventura recalls her sunny, Californian heritage and that luxurious West Coast aesthetic is mirrored frequently in Arlene's work. She is joined by a 50 – strong team of exceptional artisans, craftsmen, designers – big-dreamers and lateral-thinkers – who come from all over the world.
At Ventura, we can thoughtfully and carefully map out a room. We can see instinctively what should go where. We know how to optimise space or the art of showing off a piece to its greatest effect. But our skill also extends beyond designing. We source furniture to sell. And we have established our own furniture manufacturing facility that allows us to create our very own pieces. A bespoke range tailored to your tastes. From sumptuously upholstered dining chairs to skillfully carved headboards – our fine furniture is made to last.
Read about Ventura's Design Services and consider making an appointment at one of our Ireland or UK showrooms to chat to one of our experienced Interior Designers about your design requirements.