ACCESSORIES
Curtains: Ventura Sateen Fabric in Caramel Tone €49 p/mtr
Large 60x60cm Cushion including Fabric & Piping
Envelope 60x35cm Cushion including Fabric & Piping
Small 45x45cm Cushion on Armchair including Fabric & Piping
Linen Inspired Wallpaper - €86.50 per roll
60x80 Artwork: Jeune Fille
SHOP ACCESSORIES
Pippa's Home Project
Our clients, Pippa & Brian wanted to extend their living space by transforming their garage into another functioning part of their home, with the addition of a luxurious guest bedroom and ensuite. We worked closely with Pippa & Brian to create a mood board of their vision for these rooms and then our team started working on this transformation, from conception to completion, including:
Creation of mood boards post the initial interior design consultation
CGI image creation for the final selected products and design of the bedroom and bathroom
Creation of all wood work and cabinetry in the room and bedroom
Creation and finish of all bespoke furnishings
Supply of accessories including wall and ceiling lighting and luxurious scatter cushions
In contrast to the interior design of the existing bedrooms in their home, our clients wanted this room to display warm tones of caramel intertwined with rich chocolate tones.
When designing the layout of this room, we wanted to make the bed the focal point and give the illusion of a separate wardrobe space behind it.
With this in mind, we created our brand new Luxe Headboard, a contemporary yet sophisticated piece that defines and frames this bedroom perfectly. Curated fabric in caramel tones with deep panelling and the surrounding wood pillars in an ebony finish, distinguish this lavish aesthetic. New to the Ventura Design range, this piece can be developed bespoke, with alternative wood styles and fabrics to compliment your interior design scheme.
From the same family, Luxe Armchair is the perfect sophisticated addition to this bedroom. The Luxe Armchair has a soft, defining curve with column arm rests and deep seat padding which create a comfortable, stylish lounger. This piece can be made bespoke by our artisan craftspeople.
Our new Gregory Bedside Tables made bespoke in a rich ebony wood style, provide the perfect home for stylish accessories and are positioned beneath our latest collection of distinctive contemporary wall lights.
Accessories including our sluxurious scatter cushions (available in a wide range of sizes and fabrics), Ventura candles, faux flowers, throws, wallpaper collection, coffee table books and lighting are all available on our online shop.
GET IN TOUCH
PIPPA'S GUEST EN SUITE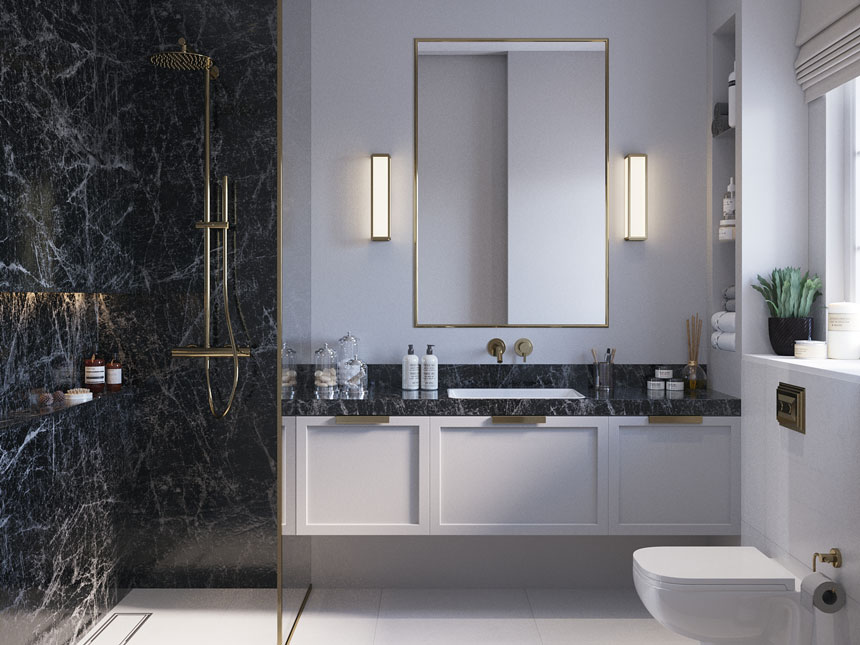 Source book:
Ventura Design: Interior design, interior architecture, Concept to completion fit out including window treatments, bespoke furniture, lighting, accessories, curtains and linen inspired wall paper.
Matt Britton: Wooden Flooring & Rug
Tile Style: All sanitary ware in bathroom
Miller Brothers: Stone in bathroom